I have a confession…..I LOVE Pinterest!!!  I am not a television person, but I could spend hours looking at gorgeous pictures of random stuff on Pinterest.  Being a natural organizer, I tend to particularly gravitate towards boards that show tons of home hacks and organizational ideas.  There is nothing more inspiring to me than to target one aspect of my home and get tons of fresh ideas on how to organize it better via Pinterest.  However, I will caution you with one tiny thing.  If you are not careful, you can spend an absolute FORTUNE on trying to recreate those pictures!!!!  Do yourself a favor and ask yourself the following questions BEFORE you start your next organizational Pinterest project:
How much stuff do I really need to store??  The absolute first thing you need to do before you ever set foot in a store is to CLEAN OUT your area.  Take everything out (yes, everything), determine what needs to stay and what needs to go.  Since you need to remove everything to properly organize, you can take this as the perfect opportunity to get rid of anything you don't use or that has expired.  You will save space and money by not having to purchase as many containers.  You will most likely find that a lot of things lurking in your cabinets and pantry are items you don't really need.  Madeline LOVES to help me "organize" her room.  If you don't believe me, then please see below.  🙂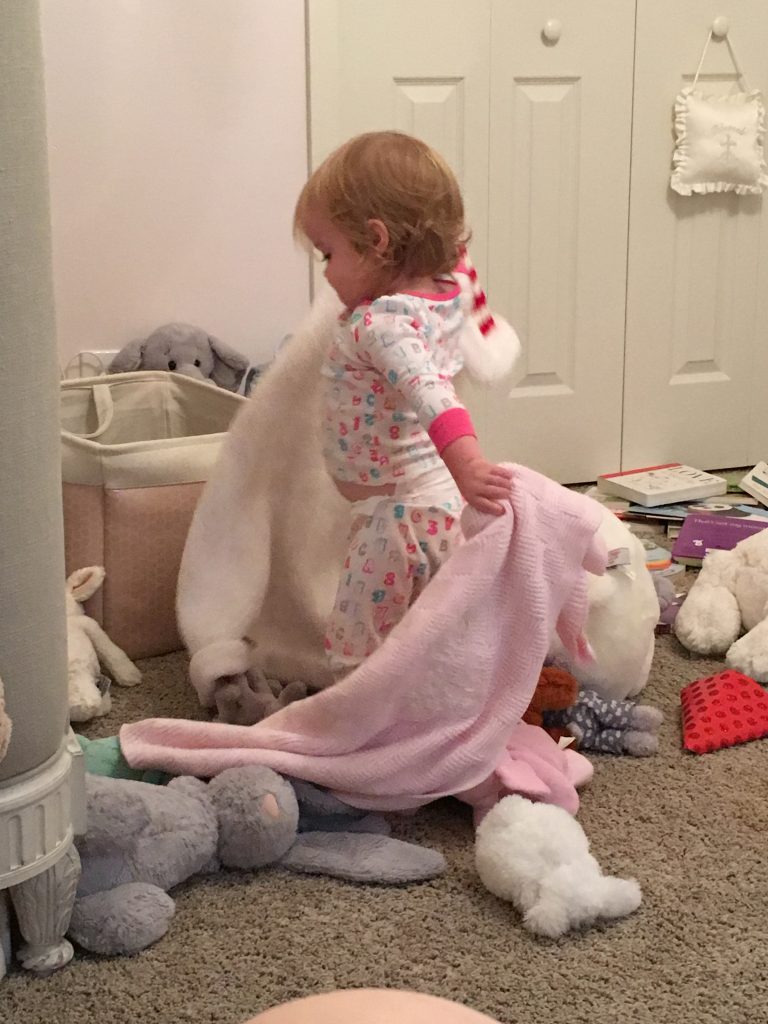 What is my budget for this project??  Before you ever set foot in a store, please make sure and have a solid answer to this question first.    There isn't a right or wrong answer.  Just make sure that the answer is something that you can afford.  If you have tons of available funds and want a cabinet that is "Pinterest Perfect," then by all means go for it.  If you don't have a ton of money, but you would like something functional, that is perfectly okay too.  If you don't have room in your budget for your organizational project, but you really need to organize, then use things you already have.  If you are creative enough, you can almost always find things already in your home to use.  You can easily turn coffee cans and shoe boxes into storage containers, as well as a drinking glass into a pencil cup.  🙂  It might not look as pretty, but it still gets the job done.  🙂  Whatever you decide, please make sure and set a budget.  A lot of these organizational stores do an EXCELLENT job of making everything look absolutely heavenly.  They have all of the containers and organizational supplies displayed so beautifully that it is super easy to "accidentally" spend hundreds of dollars (I am speaking from experience).  If that is what you are in to, and you can afford it, then by all means go for it!  If not, then this is the perfect opportunity to put your creativity to good use.  🙂  Make sure to always look for coupons to use at the bigger box stores.  Bed, Bath and Beyond runs 20% off coupons all of the time, and other stores will send you coupons if you join their mailing lists.  Do some research with your coupons to see where you can get the biggest bang for your buck!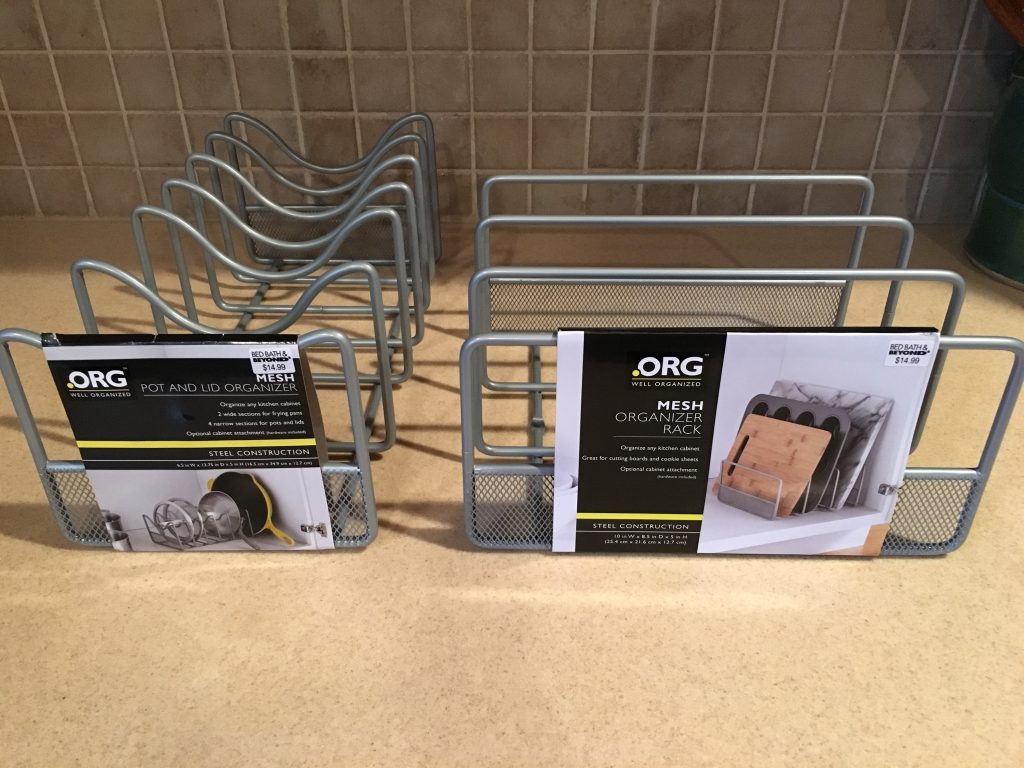 How do I find a balance between what is functional, what is pretty and what is affordable??  As I have said above, I love all of those pretty pictures of storage areas.  However, once you determine the amount of storage you need, as well as your budget, then finding a balance should not be too difficult once you enter the stores.  If you are on a smaller budget, you can easily recreate the spirit of those pretty ideas with less expensive materials.  All of your storage containers and shelves do not necessarily have to match to get the same functionality out of an area.  Yes, it is super pretty when it does all match, and if you can afford it, then by all means go for it!  I just want to stress that it doesn't have to be that way.  You can use various plastic containers that you find at your local dollar store, the Dollar Spot at Target, etc. for the same sort of feel.   Now, I love all of those pretty pictures as much as the next person, but just keep in mind that those pretty pictures can come with a hefty price tag.  Make sure to check out lots of overstock and discount stores (TJ Maxx, Ross, Burlington, etc…), since they often sell the same types and brands of containers that the more expensive stores do.  You may not always have the same selection as a place such as The Container Store (which I love, but it can be super expensive), but you will get the items at a much lower price!  Home Goods typically has a wonderful selection of the "InterDesign" brand (the same thing you can find at more expensive stores), but you have to be there when the items hit the shelves because they go quickly!  Talk to one of the employees and see what days their shipments arrive.  I have been able to organize Madeline's supplies fairly well with the InterDesign items that I picked up at Home Goods and TJ Maxx at a fraction of the price!!!  If you can't make it to a store, you can also find them HERE on Amazon.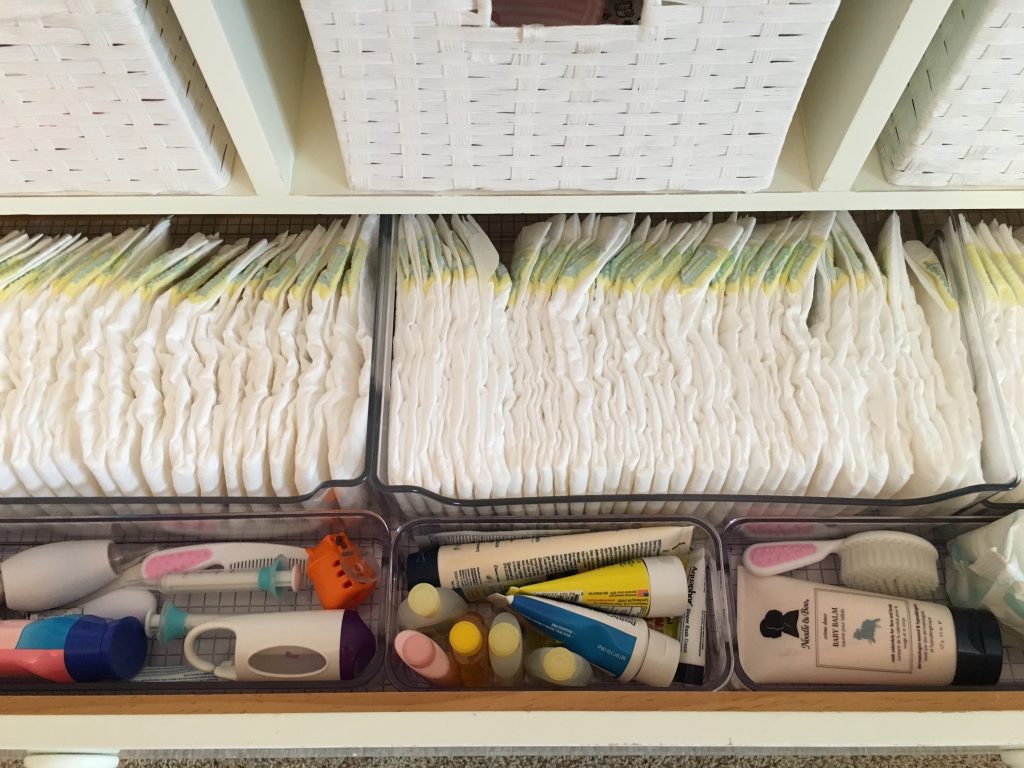 What organizational tips do you have from your own homes?  Please let us know, because we love to hear from our readers!!!
Happy Organizing,
Tiffany  🙂
Please follow and like us: