My latest activity that I enjoy doing is creating a holiday bucket full of fun themed activities for Miss Madeline.  I really love all holidays, and I think that they should be celebrated to make each part of the year special.  Even though I am absolutely crazy about Christmas, I definitely want to make sure that Halloween and Thanksgiving are not forgotten.
When I was a child, my mother started the wonderful tradition of the Great Pumpkin.  If you would like to read more about it, then click HERE.  It was so fun to wake up on Halloween morning and see what the Great Pumpkin delivered to our house.  I decided that I would put my own spin on this and start a tradition of a Halloween bucket.  My plan is to do these, most definitely on a budget, for the various holidays throughout the year.  They will contain small activities, such as books and art items, to help us celebrate the season.  There are so many cute themed activities for kids, and I want Madeline to be able to enjoy them during the time leading up to the holiday.  If I gave them to her on the actual day, then the books would kind of be forgotten about in 24 hours.  So, I started this new tradition a couple of weeks ago, and Madeline has been enjoying her Halloween items.  We talk about each item, so she will hopefully learn that this is the time of Halloween.
I will warn you, though, that this tradition could get a little out of hand if you aren't careful.  I by no means intend on spending tons of money on each holiday, because I don't want Madeline to receive tons of expensive presents all of the time.  As with everything else, SET A BUDGET PRIOR TO GOING TO THE STORE, and make sure to stick with that budget.  Everything is marketed so well and is so cute that you could spend a small fortune if you aren't careful!  I set my budget back in September, so I would have everything ready to go by the beginning of October.  You can find a ton of stuff on sale, if you have enough time to look, so start early!  Everything that I purchased for Madeline came from either the Target Dollar Spot, Kohl's or Home Goods.  I spent around $25, and I think she received a really good selection of items.  Here is what the final basket looked like: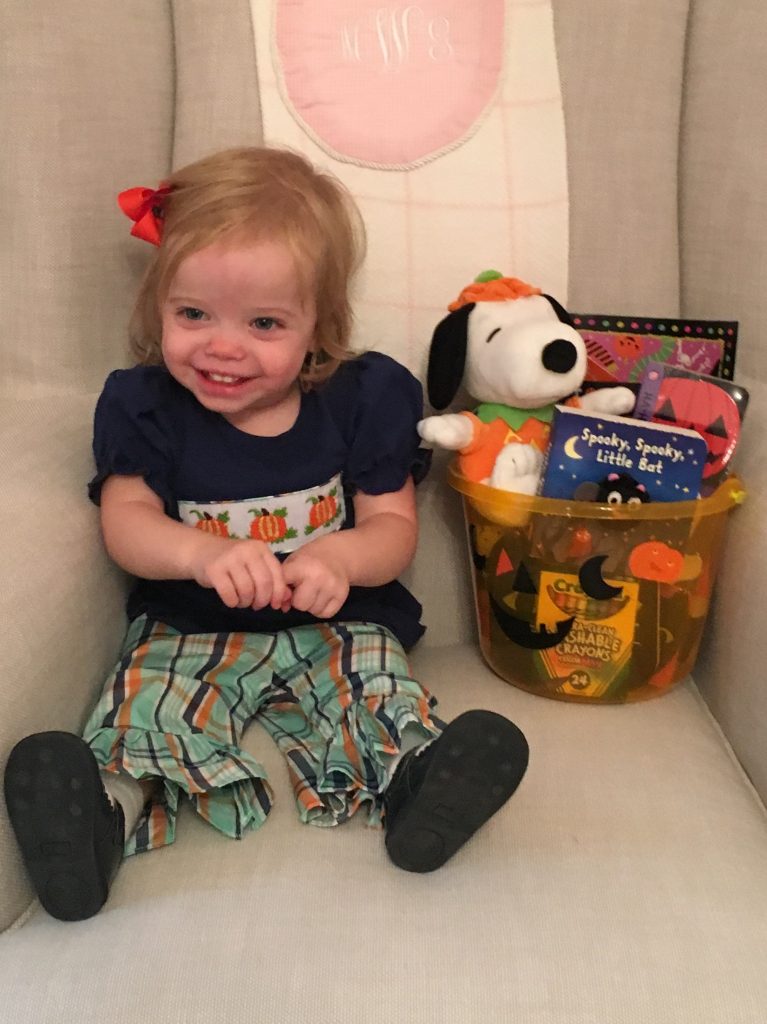 She looked so proud of her basket!  🙂  I love the one below of her peeking inside to see her goodies: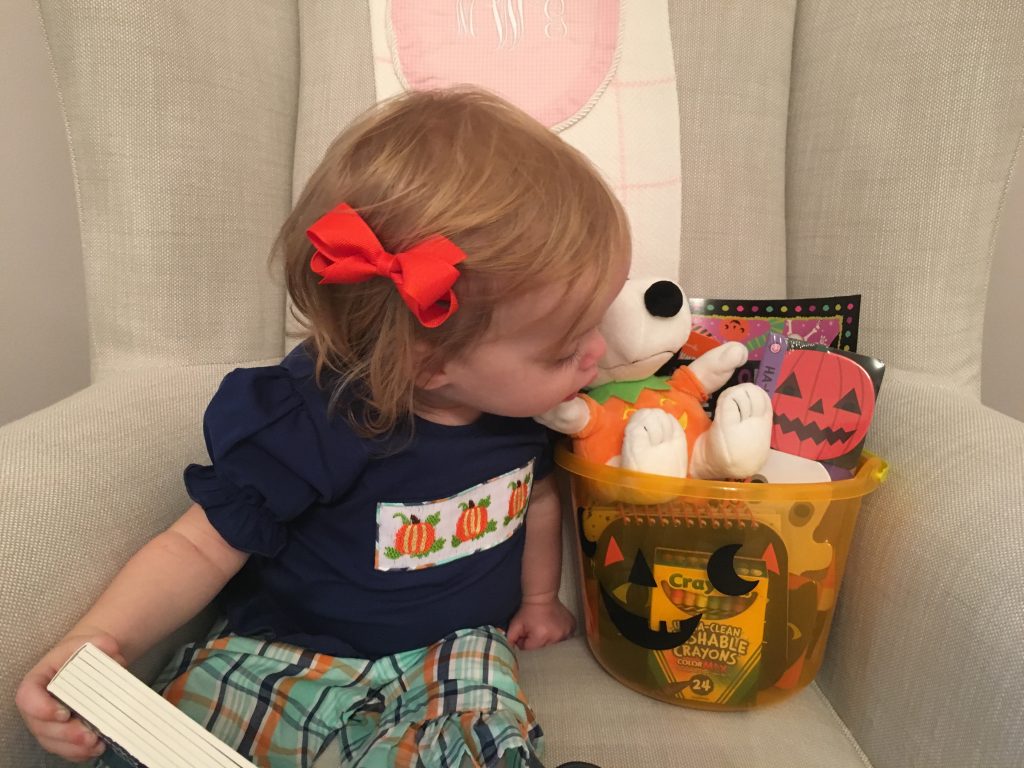 I was randomly emailed a $5 gift card from Kohl's (make sure and sign up for their emails because you will get cool coupons like these), so I applied this to the Snoopy.  This Snoopy is typically $10 (which I find to be quite expensive), however, I got him for $5 with my coupon.  After our visit to the theme park, Madeline has acquired a recent obsession with Snoopy.  There was only one of these little dolls left, so I immediately grabbed him off of the shelf.  For a quick picture of Madeline meeting Snoopy for the first time, please see below:  🙂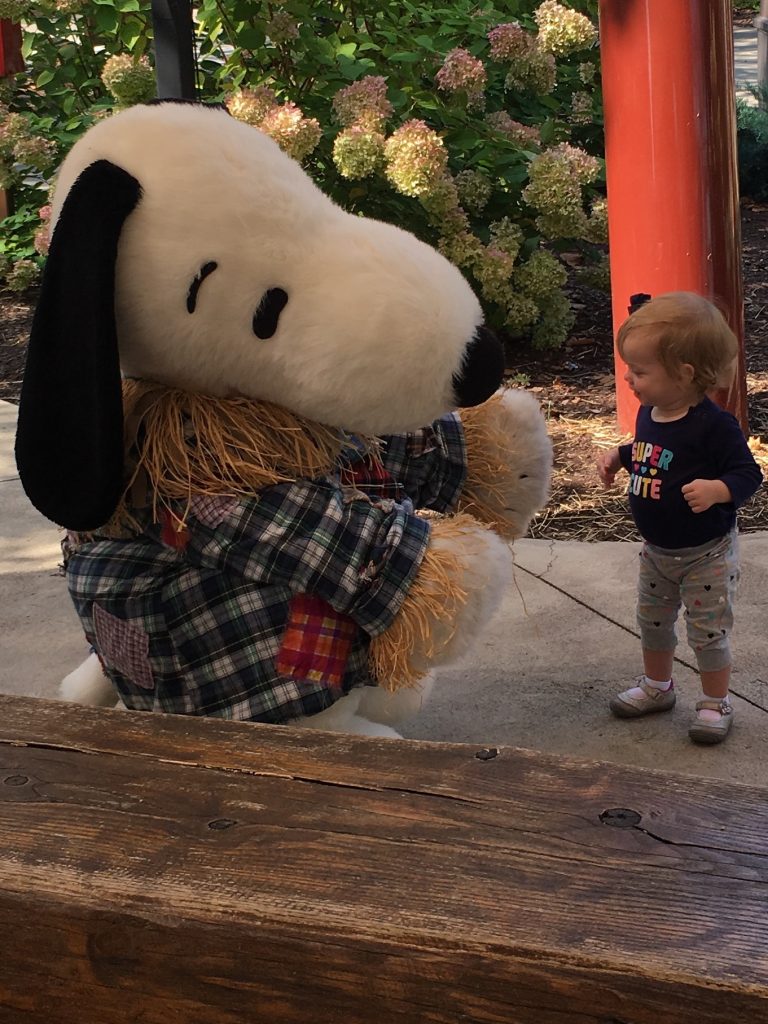 I picked the crayons up at Target, and I got a fabulous deal on them since I bought them after school started!!!  If you are looking for art supplies, this is the perfect time to look for stuff!  Stores have so much leftover stock from the back-to-school season, so they often mark a lot of it down right after school begins to clear out inventory.  Keep this in mind for next year!  🙂
The pumpkin bin, Goldfish, little notepads and coloring book all came from the Target Dollar Spot.  I love the Dollar Spot, but you really need to watch, because you can drastically impulse shop here if you are not careful!!!  Another thing is, if you see something that fits into your budget and you like it, go ahead and get it before it is gone.  I happened to be there right after they set these little bins out for a $1, and they were all gone the next time I was there.  They turn over their inventory quickly, so you have to shop early!  🙂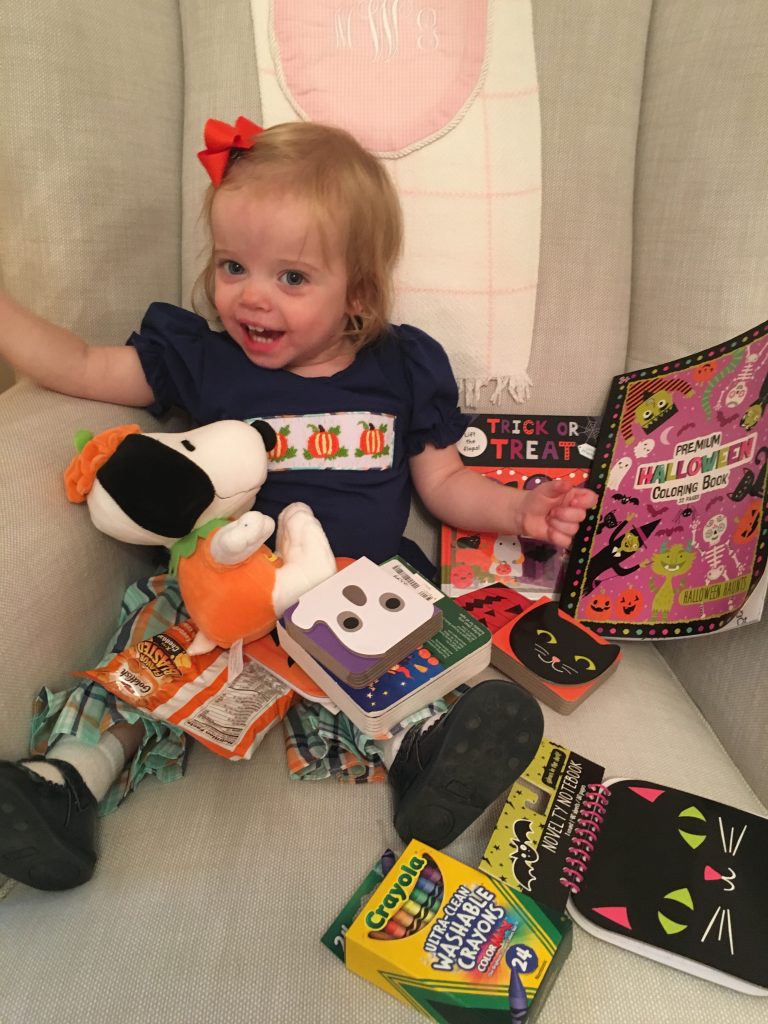 The books came from Home Goods, which if you didn't know, has a FANTASTIC selection of children's books for cheap!  Here is a picture of the last time I was at their store: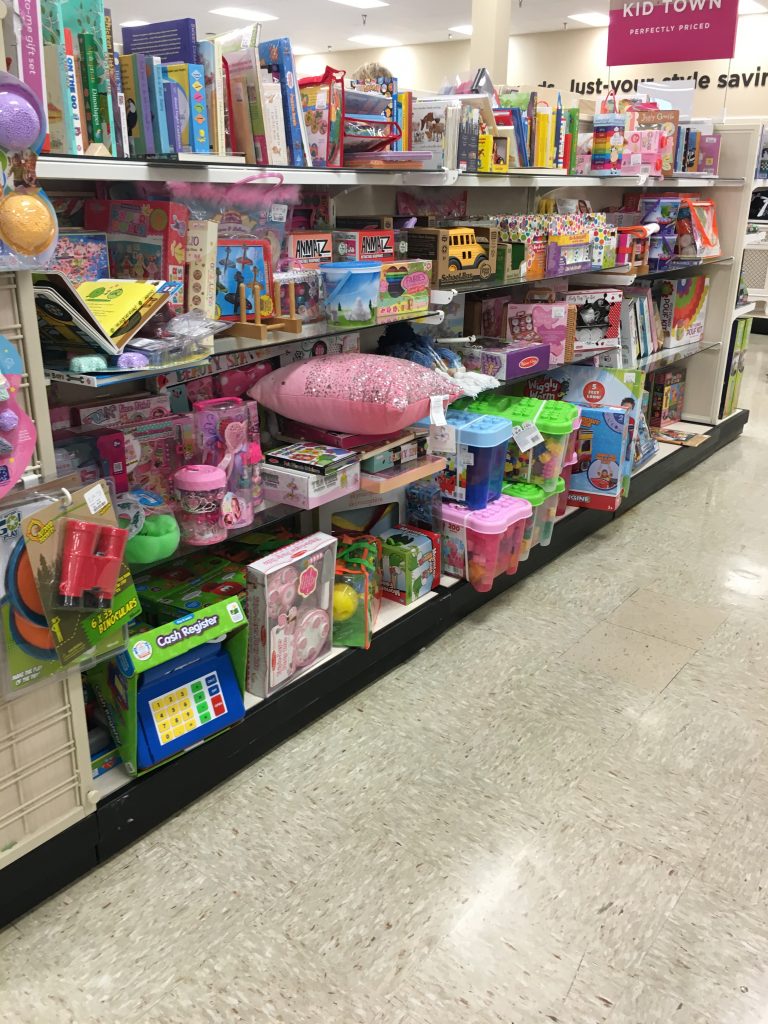 You can also take a look at TJ Maxx, since they are owned by the same company.  Just like Target, however, you need to shop early before everything is gone.  I love getting Madeline books, because I try to read to her every night before she goes to bed.  I know that she doesn't completely understand everything that is going on, but it is very important to start reading early.  She particularly likes the books with flaps that she can open and shut, as well as the books with finger puppets.  We have a great time reading, and it is one of my favorite times of the day!!!!  If you can't make it to the store, here are two of the books that I included in her basket this year (she has LOVED them both):
All in all, I am happy with her first holiday bucket!  It is currently sitting out in her room, to help add a little Halloween fun to her decor.  🙂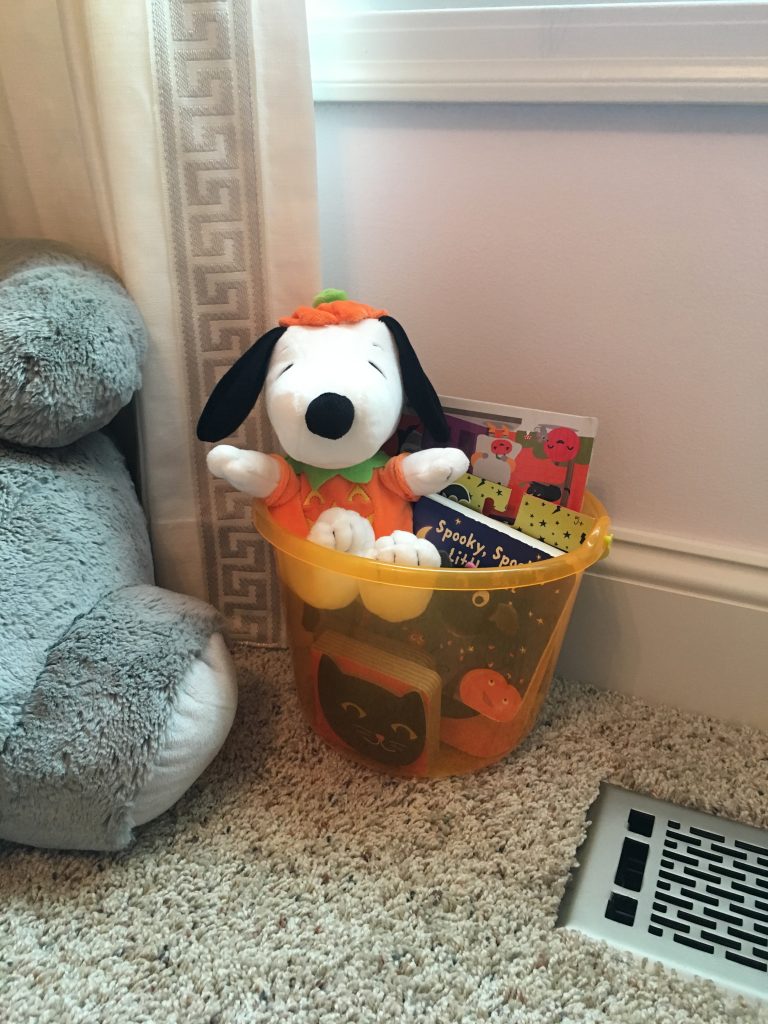 I will most likely spend less on Thanksgiving, but I do think it is fun to start this tradition while she is small.  Even if you didn't do a whole bucket and only bought one themed coloring book or activity, I really feel like it is something your children will enjoy.  As they get bigger, you can definitely do less, because they will already have their holiday collection started from the year prior.  🙂  You could always just set the existing holiday items out in a fun new container and throw in one or two small items to reinvigorate the season.  Whatever you choose, you will have lots of holiday fun with your little ones!
What fun holiday activities do you do with your children?  Please let me know, because I always love to read your comments!!  If you like this sort of post, click HERE for Madeline's 1st Easter basket.  🙂
Happy Halloween,
Tiffany  🙂
Please follow and like us: